Frequently Asked Questions
For Staff
The approach to staff training is two-fold:
First, staff will have available to them via this project website a number of job guides and short videos to assist them with the use of my.SDSU.
Second, technical staff using the system will receive training from their peers in a train the trainer model. Those SDSU staff trainers are in the process of being trained currently and throughout October.
Reach out to your my.SDSU Change ambassador: These local contacts are meant to help promote dialogue. To find your Change Ambassador visit the Change Ambassadors page.
For questions and clarifications, you can email [email protected]. We will collect these questions and share their answers through the FAQ section of the project website.
Starting on October 1st, 2022 students will begin the admission cycle for undergraduate and graduate students in the systemwide tool called Cal State Apply. Data from this application will then be loaded into my.SDSU for use in our undergraduate and graduate admission process.
Staff access to my.sdsu will be determined by the business activities and roles you have been assigned. Requests for access to my.SDSU features are reviewed by the SDSU project leadership team prior to being assigned.
SDSU students started using Peoplesoft last Spring for financial aid and for the first time this fall used the system for bill payment including tuition and fee. Starting in November, students will use the system to register for Spring 2023. Moving forward all campus business operations (enrollment, registration, grades, etc) will use my.SDSU
Any new student who applies and is admitted through SIMS/WebPortal will still get a RedID (starts with an 8) generated. This applies to students starting at SDSU in Fall 2022 and Spring 2023.
After this, students will be admitted through my.SDSU and will then get a number generated with a 1 (instead of the current RedID) for the Fall 2023 semester.
Through my.SDSU, the student will be able to get linked to Transact (formerly CashNet). Parents and families will not have access to my.SDSU, but will be able to make payments in Transact.
Note: Please make sure your pop-up blocker is turned off so that you can be linked to Transact.
Note: Parents and families will no longer have access to view a student's charges, financial aid or to-dos. Students and their families will need to work together to view information regarding anything financial account or financial aid related.
Instructions to make payments and set up an alternate payer in Transact can be found in the Student Training Resources and Video Tutorials page.
Tuition can be paid in the following ways:
ACH (no service charge)
Credit Card (2.65% service charge)
eCheck
Wire Transfer
FlyWire (coming soon)
If you have any questions, please contact the Student Financial Center.
Payment for the Fall 2022 semester's tuition and fee was September 12, 2022 as the campus transitioned to paying these bills after registration. If a student has not yet made payment, please ask them to contact student financial aid services. Failure to pay tuition and fees may result in late fees and/or loss of enrollment. The Spring 2023 fee payment schedule is in the process of being finalized and will be available later in October.


General
Both the SDSU Human Resources system and the my.SDSU Student Information System use the same domain space (cms.sdsu.edu). Because of this design, users cannot access both systems in the same browser session when users first go to my.SDSU and then to the SDSU HR site. The CSU Chancellor's Office is aware of this issue and is working on a long term fix.
To remedy this, you can use one browser type for my.SDSU (Google Chrome for example) and a different browser for HR (Firefox for example) to keep them separate. Or, login with Incognito/Private Browsing mode, or you can temporarily clear your browser's cache.
PeopleSoft is a suite of integrated software systems provided by the company Oracle. PeopleSoft is one of the leading enterprise software systems for businesses and higher education and is widely utilized by corporations and universities across the country including all CSU campuses. There are three main systems under the PeopleSoft umbrella -- Human Resources Management Systems, Financial Management Solutions, and Campus Solutions. This system is utilized in different ways throughout the California State University campuses to meet different needs. The software will provide support for student and financial systems on the San Diego State University.
my.SDSU is the name for the initiative to enhance the experience of our students, faculty, and staff, and improve the recruitment and admissions process and the financial aid system, with the potential to enhance other core functional elements supporting student retention and success. my.SDSU is responsive to the growing web and digital ecosystem and will transform the experience prospective and enrolled students have at SDSU.
The my.SDSU initiative is to expand the integration of the university's enterprise systems and enhance the student experience. At the core of this initiative is the implementation of PeopleSoft, a powerful student management information system designed to enhance the way students interact with the university -- from admission to enrollment, payment to financial aid, mobile app and more. The system will also enhance the experience of faculty and staff, such as access to more reliable data and support.
Incoming Students: Incoming students will use WebPortal to register for their Fall 2022 courses. They will use my.SDSU to view their financial accounts and charges and accept their financial aid for the Fall 2022 - Spring 2023 academic year.
Continuing Students: Continuing students will use WebPortal to register for their Fall 2022 courses. They will use my.SDSU to view their financial accounts and charges and accept their financial aid for the Fall 2022 - Spring 2023 academic year. Continuing students will also use current systems to register for their Spring and Summer 2022 courses, view their financial accounts and charges for Spring and Summer 2022, and accept their financial aid for the Summer 2022 term.
Staff will leverage my.SDSU for the Fall 2022 term and beyond for: student enrollment and registration, financial accounts and charges, financial aid, and admissions.
Note: See below for information about training and access.
Yes. PeopleSoft is one of the leading Student Management Information Systems in higher education, and is widely utilized by universities across the country including all CSU campuses. PeopleSoft is a powerful and flexible system, and colleges and universities across the nation utilize PeopleSoft in different ways including admissions, enrollment, payments and financial aid disbursement, advising, thesis evaluation, graduation management, alumni donations and more.
Timeline
2022
Oct. 1,
2022
Application for Admissions for Fall 2023 in my.SDSU
Oct. 26,
2022
Advising Month Begins
Nov. 28,
2022
Registration and waitlist for students for Spring 2023 begins
Dec. 30,
2022
Final Grades Deadline for Fall 2022
Application for Admissions for Fall 2023 (AY 2023-24)
Cal State Apply opens to all undergraduate and graduate students on October 1, 2022.
In early October, application and admission status, including supplemental information, will be available via my.SDSU.
Advising and Course Registration for Spring 2023
Advising month should start on October 26th 2022.
Registration and waitlist for Spring 2023 courses will open to all students on November 28, 2022.
Process Changes for Fall 2022
Transition to my.SDSU and upgraded EAB for Advising (Oct.)
Graduate Admissions Process (Oct.)
Submission of final Fall 2022 grades in my.SDSU (Dec.)
Student Evaluations in Explorance Blue (Dec.)
2023
January
2023
my.SDSU Begins
Jan. 18,
2023
Classes Begin Spring 2023
Jan. 25,
2023
my.SDSU waitlist ends
Jan. 31,
2023
Spring 2023 schedule adjustment deadline
May 18,
2023
Final Grades Deadline for Spring 2023
Process Changes for Spring 2023 Semester
Updated Add process using permissions numbers (Jan.)
Drop process with centralized administration by Colleges/Departments (Jan.)
Course Roster View in my.SDSU (Jan.)
Transition from Sims/R & WebPortal to my.SDSU
Please see the news article for the transition outline.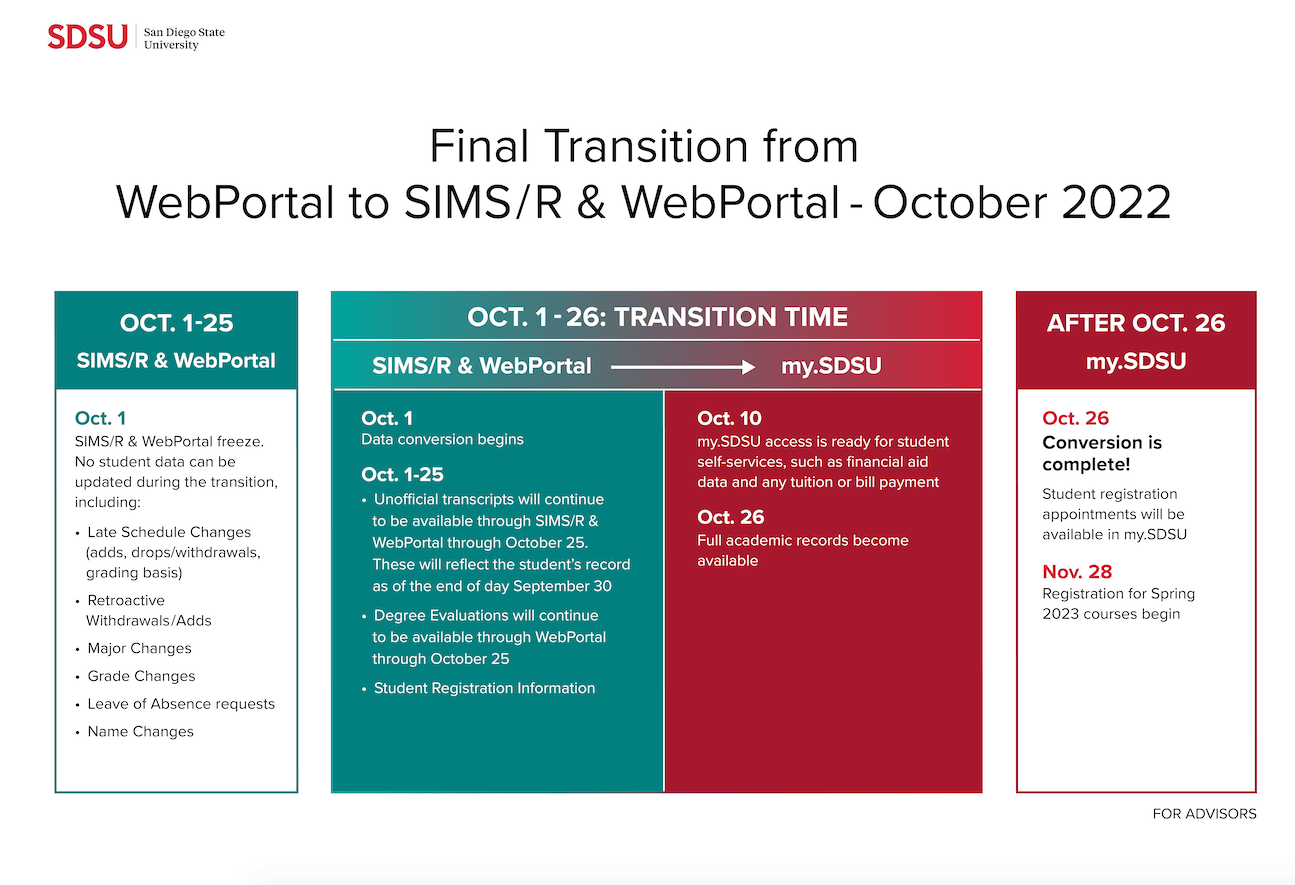 Click image to enlarge
my.SDSU Engagement Calendar
The my.SDSU Engagement Calendar includes all relevant my.SDSU milestone dates, outreach presentations, and support training sessions.
Please use the +Google Calendar icon on the bottom right of the calendar to add to your work calendar!
my.SDSU Project
For general project inquiries, contact us at [email protected] To get immediate help, please choose the appropriate support link to the right.
We're Here to Help!
Need help finding help? Access "just-in-time" support or connect with a my.SDSU expert.