Frequently Asked Questions
FAQ Categories
Registration
SDSU offers multiple academic support systems to include advising about general education, major, minor, and other degree requirements, in addition to supporting students' overall success. Visit the Seeing an Advisor web page for contact information.
If you are concerned about or need a disability and/or medical-related academic accommodation, please contact the Student Ability Success Center (SASC). The SASC will work with you on your request to receive appropriate academic accommodations.
Please visit the Academic Calendar page on the Office of the Registrar website and select the current term to view registration dates.
You will be able to enroll once your appointment window begins. The Office of the Registrar has provided instructions on how to view your registration information.
Please refer to their registration page for more information including their contact information if you need assistance.
Once you receive your registration appointment window, you may begin planning your schedule by adding classes to your shopping cart. You will be able to directly enroll in or wait list the classes you have selected from your shopping cart during your registration window.
The shopping cart can be found in the Manage Classes tile on the my.SDSU homepage.
Please see the How do I search for classes? guide to learn how to search for classes using the advanced search features and filters.
You can search for upper division or graduate level courses by using the Additional ways to search option. Choose a subject using the drop-down arrow, then add the number for the course level you are looking for in the Catalog Number field and search. For example, to search for all the 600 level Art courses select Art from the drop-down menu and type 6 in the Catalog Number field then click Search. You will now see all 600 level Art courses being offered for the term you are currently searching in.
Make certain that you are eligible to take all classes in your cart. If certain classes are not processed for registration, you may not meet the eligibility criteria for the course (e.g., course requisite). Read the enrollment error message carefully for more information. For assistance with registration, contact the Office of the Registrar.
Note, the Office of the Registrar cannot override course requisites. If you would like to discuss an exception to a course requirement, contact the department offering the course.
Information about adding courses that require instructor permission, please visit the Office of the Registrar's website.
When adding your course, please ensure that you have the correct class number from the instructor.
Students may not be able to register until all holds and tasks have been cleared. Not all holds can be cleared by the Office of the Registrar.
Step 3 of the Registration Guide provides instructions on how to review and handle registration holds and tasks in my.SDSU. View the hold details to determine what needs to be done and who to contact for assistance for a given hold.
Holds are not cleared in real time; the soonest a hold can clear would be 24 hours. To see if a hold can be cleared sooner you must contact each office individually to see if they can release the hold in real-time.
The Office of the Registrar provides information about what the waitlist is and how to get on it.
Please contact the Office of the Registrar if you need assistance.
my.SDSU uses a first-come, first-served waitlist ranking system, so when space in a class opens up, the next student on the waitlist will be automatically enrolled in it.
You will not be enrolled from the waitlist if you are already in another section of the same course or you are already in a class at the same time as the one the waitlist is attempting to add. This process will run through January 24, 2023. From January 25–31, 2023, enrollment in open seats is not automatic or guaranteed. Students must obtain permission numbers (individual codes allowing registration) from instructors to add classes during this period.
Yes, but we encourage students to enroll in classes during their registration window to optimize the likelihood of accessing the courses that they need to make timely degree progress.
While there are opportunities for cross-enrollment, students are not permitted to enroll in classes at other campuses without special permission. See your academic advisor to discuss options. Please note that San Diego and Imperial Valley students enrolling in Global Campus courses will incur additional tuition and fees.
GE filters should be selected individually. If you have more than one GE filter selected, we recommend only selecting one at a time for the most accurate results. Always rely on the University Catalog and your degree evaluation to confirm whether a course will satisfy a GE area.
Academic Records
Admissions
Please visit Apply to SDSU and select your status (Undergraduate Admissions, International Students, or Veterans & Service Members.)
Please use the Admissions tile on the my.SDSU homepage to check the status of your SDSU admissions application. Use the Tasks tile to review any checklist items (To Do's) you need to complete.
More information about your next steps can be found at Application Admission Status.
If you have questions about your application status please contact the Prospective Student Center in the Office of Admissions. Their contact information and a link to their Virtual Office Hours can be found on the Admissions website.
If you don't see the Admissions tile at login, you may be viewing the my.SDSU Homepage.
You should be able to toggle between the my.SDSU Homepage and the Applicant Homepage by using the drop down arrow in the upper left hand corner next to the word Homepage.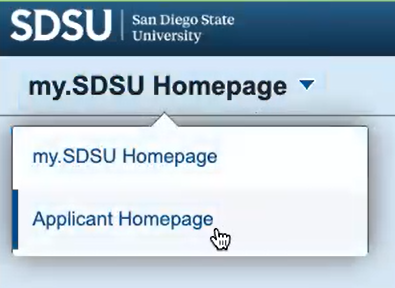 Financial Accounts
General
my.SDSU Project
For general project inquiries, contact us at [email protected] To get immediate help, please choose the appropriate support link to the right.
We're Here to Help!
Need help finding help? Access "just-in-time" support or connect with a my.SDSU expert.