Welcome!
To better serve the needs of the students at San Diego State University, the university is launching my.SDSU (prononuced "my-sdsu"): a new initiative that will expand the integration of the university's enterprise systems and enhance the student, staff, and advisor experience, by providing greater access to more reliable data and support.

my.SDSU is the official online portal for student admissions, student records, financial aid, tuition and fee payment, and more. In other words, my.SDSU is our new student information management system. Learn more about the why we are changing to my.SDSU.

Important information - October 26th:
All features and roles will be configured.
Data will be current.
Public Schedule is available online at sdsu.edu/schedule.
my.SDSU Engagement Calendar
The my.SDSU Engagement Calendar includes all relevant my.SDSU milestone dates, outreach presentations, and support training sessions.
Please use the +Google Calendar icon on the bottom right of the calendar to add to your work calendar!

Navigating the Staff Resources & Guides
The Staff section offers various support channels for your convenience.
Upon selecting the Staff button, you will see the following resources as you scroll down the page:
my.SDSU Guides & Resources
Image for educational purposes only

Getting Started
(You are here now!)


Frequently Asked Questions
Review the most commonly asked questions from Staff. These FAQs are regularly updated. If you don't see your question, please submit a my.SDSU ServiceNow ticket.


Why Change to my.SDSU?
This section explains why we are transitioning to my.SDSU.


All Staff Guides
"Just-in-time" tutorials to quickly provide you support. Each guide features text/graphics and a brief closed-captioned video. Thank you for your patience as the videos require time to closed caption and upload.
Staff Support
Image for educational purposes only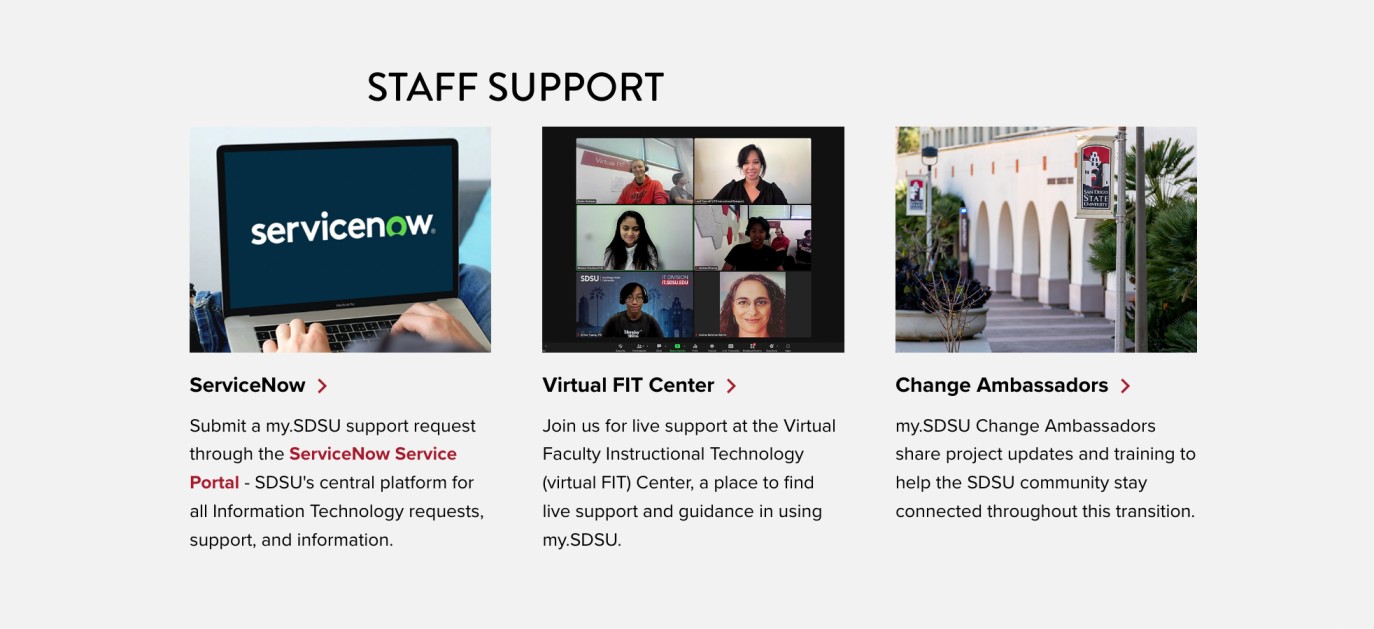 ServiceNow
Submit a ServiceNow ticket if you are unable to find the answers to your questions in the Staff Guides or Frequently Asked Questions (this section is regularly updates thanks to your ticket submissions!)


Virtual FIT Center
Virtual FIT staff can guide you in finding the answers to your questions or connect you with the experts via a my.SDSU ServiceNow Ticket. Note: virtual FIT support are not experts of my.SDSU. If virtual FIT is unable to locate the answer your to your inquiry, a my.SDSU ServiceNow ticket will be submitted.


Change Ambassadors
These active champions can provide answers to general questions.
Introduction to my.SDSU

Please review the following guides in this order.
my.SDSU Project
For general project inquiries, contact us at [email protected] To get immediate help, please choose the appropriate support link to the right.
We're Here to Help!
Need help finding help? Access "just-in-time" support or connect with a my.SDSU expert.