Frequently Asked Questions
For Faculty
Faculty who wish to update their personal information should reach out to Human Resources (HR); that updated data will then populate in my.SDSU and other SDSU systems.
Please note that, if you update your personal email and/or phone number, you must also update your SDSUid password recovery options. Support for updating your password recovery options are available online at Manage My SDSUid.
Class Rosters are available in the my.SDSU Faculty Center and include student identification numbers, student level, major, grading basis and course unit, along with key course information. During the faculty Add period, faculty will be able to retrieve permission numbers from their roster to provide to students requesting to enroll.
The waitlist in my.SDSU functions differently than our legacy system; it is a first come first served system. This change was discussed and approved by the University Senate as SDSU worked to create the business processes necessary to support implementation. In accordance with Senate Policy, faculty retain the discretion to add students. After the 5th instructional day faculty will provide students with permission numbers to add them to their course(s).
For more information about permission numbers, view the faculty guides on Student Specific Permissions and General Permission Numbers.
Electronic forms that are currently built in OnBase (e.g. Course Repeat, RAAR, Withdrawal) will continue to be available through OnBase. Forms will be available as self-service links in my.SDSU to students, faculty, or staff as appropriate, based on the purpose of the form. Other forms, such as the Incomplete Agreement, will be delivered through my.SDSU directly.
Development is already underway for those situations where a form is not already available via OnBase or delivered in my.SDSU. More information regarding Leave of Absence and Grade Change forms will be shared as the forms are finalized.
All users will use Single Sign On, and they will have different views to see their faculty and advisor roles.
Grading
Faculty are expected to review and verify all grade data before submitting. faculty will have the ability to export grades from Canvas and upload an CSV-formatted Excel file into my.SDSU. For faculty who are not using Canvas to export their grades, a manual grade input option is available.
Similar to our legacy system, my.SDSU allows faculty to assign a grade of Incomplete to qualified students. Upon assignment of an incomplete, faculty will be prompted to fill out an Incomplete Agreement which is viewable by both the student and faculty member.
As is the case now, outstanding coursework must be completed within one academic year. Upon completion of coursework, the faculty must submit a grade change form. Any unresolved incompletes will be charged (assigning a grade of "IC") after one academic year.
Yes, and they will need to coordinate through the Office of the Registrar.
The entire academic history, including all past grades, of students who were enrolled in Fall 2022 and after will be available in my.SDSU starting October 26. Grades for previously enrolled students, or students who have graduated from the university prior to Fall 2022 will remain available in WebPortal Archive. Please work with your college or departmental coordinator to request this data.
The Office of the Registrar publishes and frequently updates a Student Resources website that offers students clear and concise grading information. Other topics of interest to students include Academic Status/Probation and Disqualification, Withdrawal or Late Schedule Adjustments, and Leaves of Absence. Though directed to students, instructors will find this data informative as well.
Both Curriculum Services and the Registrar's Office offer instructors comprehensive guidance about grades, including the point value associated with each grade and the method by which the grade point average is calculated.
This scenario is handled "locally" at the time a course is set up. Instructors should contact their Department/School or College Class Schedulers for information specific to their classes. In some cases, multiple instructors are able to enter, approve, and post grades.
In this scenario, the instructor can download the grade roster and upload it into each of the sections (one at a time); my.SDSU will simply ignore any student IDs that don't match.
Yes; each is a highly useful resource for learning more about grade sets (for example: letter grades, credit/no credit, etc). Other covered issues or topics include the grade point scale itself, University Senate-defined grading deadlines (and how to locate them on the Academic Calendar), and when (and how) to assign the grade of Incomplete (I)—as well as the process for removing it.
(Faculty Handbook and Temporary Faculty Handbook available at https://fa.sdsu.edu/resources/policies)
This form is used to change a grade (due to an error in data entry), remove an Incomplete, or remove the Report of Progress (RP) grade. The form is completely automated; one simply follows the prompts and then submits the form when requested. The completed/signed form is directly sent to the Registrar's Office for processing.
The grading basis is course specific and an instructor cannot unilaterally change it once assigned; however, a student may request a change (for example: letter grade to credit/no credit) before the schedule adjustment deadline (10th day of instruction).
Grading is a required topic to include in the course syllabus, which serves as a contract (of sorts) for students (see: University Senate Policy File/Faculty/Academic Responsibilities/2.0 Course Syllabi).
At the university level, the calculation is premised on the value assigned to each letter grade a student might earn, as shown here.
A = 4.0
A- = 3.7
B+ = 3.3
B = 3.0
B- = 2.7
C+ = 2.3
C = 2.0
C- = 1.7
D+ = 1.3
D = 1.0
D- = 0.7
F = 0
WU = 0
I = 0
IC = 0
However, Canvas illustrates grades as percentages within ranges, not point values specifically assigned to a particular grade.
Grade
Range
A
100 %
to 94.0%
A-
< 94.0 %
to 90.0%
B+
< 90.0 %
to 87.0%
B
< 87.0 %
to 84.0%
B-
< 84.0 %
to 80.0%
C+
< 80.0 %
to 77.0%
C
< 77.0 %
to 74.0%
C-
< 74.0 %
to 70.0%
D+
< 70.0 %
to 67.0%
D
< 67.0 %
to 64.0%
D-
< 64.0 %
to 61.0%
F
< 61.0 %
to 0.0%
No, my.SDSU does not modify grades you've assigned in the Final Grade column (which is the only column it reads during the upload.)
Course Evaluation / Student Feedback
No. Beginning in Fall 2022, the end-of-course student feedback survey tool that was built into WebPortal will be managed by a vendor (Explorance). Detailed information about Explorance will be shared with faculty at the beginning of November.
After a highly successful pilot test in Spring 2022, SDSU contracted with Explorance, an enterprise vendor with a growing toehold in the CSU system (Fresno, Pomona). Fall 2022 distribution will feature the same questions we've used in the past (although they'll have a very different look and feel), and the survey distribution will follow our typical timeframe, with automated notification to students via text, email and Canvas. A "get acquainted with Explorance" section of the my.SDSU website will go live the first week of November -- about 5 weeks ahead of actual distribution.
Candidates up for review can import and reuse materials from past Reappointment, Tenure, and Promotion (RTP) packets when assembling a packet for a current or upcoming review. When up for an important review (like tenure, or promotion to full professor), materials that have previously been submitted for routine reviews, such as annual reviews, can be easily added. This can save hours of tedious redundant work, and cut down on potential errors when assembling packets.
In 2016/2017 Interfolio was piloted with the College of Health and Human Services for performance reviews. In 2016/2017 Interfolio was piloted with the Fowler College of Business for periodic evaluations. In 2017/2018 Interfolio was transitioned campuswide to Interfolio for performance reviews and periodic evaluations for tenured/tenure-track faculty & temporary faculty. In 2019/2020 Interfolio we transitioned campuswide to Interfolio for range elevations.
The short answer is no and here is why.
The California State University system is legally required to maintain all course evaluations/student feedback surveys from the time of hire until five years beyond permanent separation (retirement after FERP, termination, resignation)—no matter the format by which the survey forms were distributed.
Tenure/tenure-track faculty undergoing some level of review this academic year have already uploaded their materials to Interfolio, so there is no action for them to take at this time. Content in Interfolio is continuously stored.
Interfolio was transitioned campus-wide for performance reviews and periodic evaluations for faculty; nearly every faculty member can already access files they may need for their next within that system.
Faculty have access to the legacy version of WebPortal Archive until August 2023. If you need access to prior evaluations past this date, you will need to make a request for this information. It is strongly recommended that faculty download their evaluations as soon as possible to avoid any delays.
The short answer is no since you'll have access to the legacy version of WebPortal Archive until August 2023. For those of you with three-year contracts, please note that in AY 2017/18 Interfolio was transitioned campus-wide for performance reviews and periodic evaluations for all faculty; thus all of the files you might need for your next review are readily available to you within that system.
Course evaluations/student feedback surveys are stored for six years (until establishment of a three-year contract), and then for at least three years after that (when a subsequent contract is issued). That three-year cycle continues until no further contracts are issued.
General
Both the SDSU Human Resources system and the my.SDSU Student Information System use the same domain space (cms.sdsu.edu). Because of this design, users cannot access both systems in the same browser session when users first go to my.SDSU and then to the SDSU HR site. The CSU Chancellor's Office is aware of this issue and is working on a long term fix.
To remedy this, you can use one browser type for my.SDSU (Google Chrome for example) and a different browser for HR (Firefox for example) to keep them separate. Or, login with Incognito/Private Browsing mode, or you can temporarily clear your browser's cache.
All faculty have access to my.SDSU as of October 10, 2022; they will log in using their SDSUid (e.g., [email protected]) and multifactor authentication (Duo).
In Fall 2022, faculty will use my.SDSU to: view course rosters, view graduate admissions files, upload grades, and check course and student information.
For this academic year, faculty will have access to past evaluations through WebPortal Archive. After this academic year, that access will occur through administrative contacts in colleges and departments. As always, faculty can choose to download that information at any time before the close of the academic year.
No, faculty SDSUids will be automatically provisioned to the right roles and access to student information in the my.SDSU system.
There are two ways that faculty are supported: in-person and on-demand:
October 2022 was chosen to allow our campus to align with the 2023 admission cycle, to provide greater support opportunities, and to meet our CSU reporting requirements.
You can take a look at the detailed my.SDSU Faculty Timeline.
my.SDSU will be enhanced with other vendor offerings and continued improvements supported by the CSU Chancellor's Office.
No, SIMS and WebPortal Archive data is being converted for our active student population into my.SDSU, and information for past students will continue to be accessible through administrative contacts in colleges and departments.
Yes, my.SDSU is optimized to display correctly on mobile devices (e.g., smartphones and tablets).
Transition from Sims/R & WebPortal to my.SDSU
Please visit the news article for the transition outline.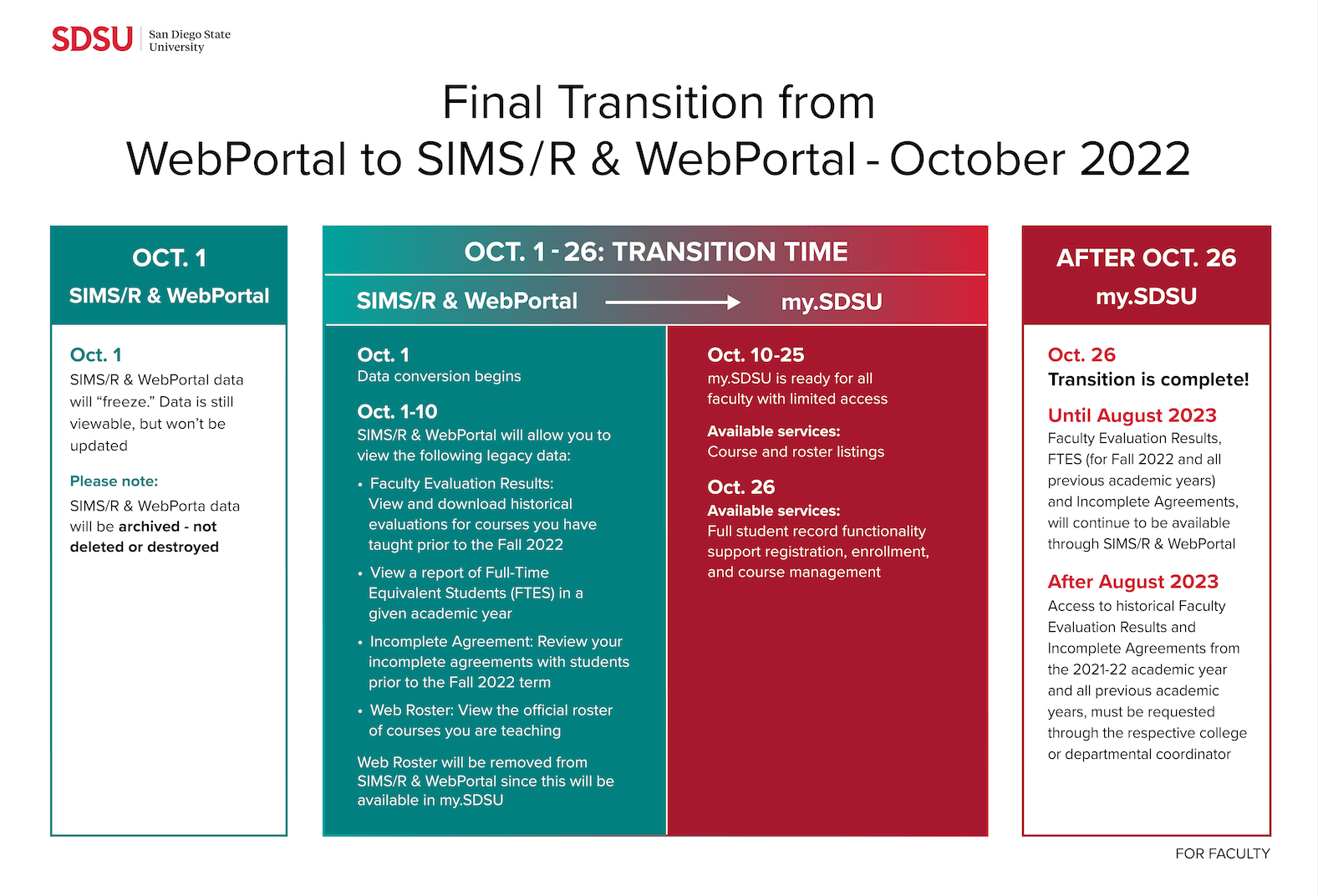 Click image to enlarge
my.SDSU Engagement Calendar
The my.SDSU Engagement Calendar includes all relevant my.SDSU milestone dates, outreach presentations, and support training sessions.
Please use the +Google Calendar icon on the bottom right of the calendar to add to your work calendar!
my.SDSU Project
For general project inquiries, contact us at [email protected] To get immediate help, please choose the appropriate support link to the right.
We're Here to Help!
Need help finding help? Access "just-in-time" support or connect with a my.SDSU expert.