How Do I Search for Classes?
Introduction
Use the Manage Classes tile to search for courses.
Learn how to search for classes using the advanced search features and filters.
In addition to the Manage Classes tile, you may also search the Public Class Schedule.
Instructions
To search for courses in my.SDSU, on your home page, select the Manage Classes tile.


Then select the Class Search and Enroll tab on the left hand menu.
Select the term you wish to search for classes in.


You can change the semester or term at any time by selecting the Change button in the top left corner.



In the middle of the screen, you will see a Search for Classes field. This field can be used to search the schedule more broadly and searches by Key Words.

For example, if you type in "history" any section that has the word "history" will show up in your search results.


There is also a link to Additional Ways to Search. The Additional Ways to Search feature will help you navigate more efficiently to what you are looking for.


We recommend using the Additional Ways to Search feature when planning your class schedule.

If you do not know the specific Course ID for the class you want to take, please use the Additional Ways to Search. This screen contains the following fields to help you narrow down your search:


Available Subjects: This field refers to the subject area in which the course is located (e.g. History). You must enter the subject in order for the search to be performed.


Catalog Number: This field is not required, however if you know the specific course number (e.g. HIST 101) you will want to add the number into this field for a more efficient search.


Instructor Last Name: This field refers to the last name of the instructor (if known).

You can also specify if your search term contains or is exactly a specific name (e.g. Contains word "de la" vs. = "de la Torre" if you are searching for Professor de la Torre).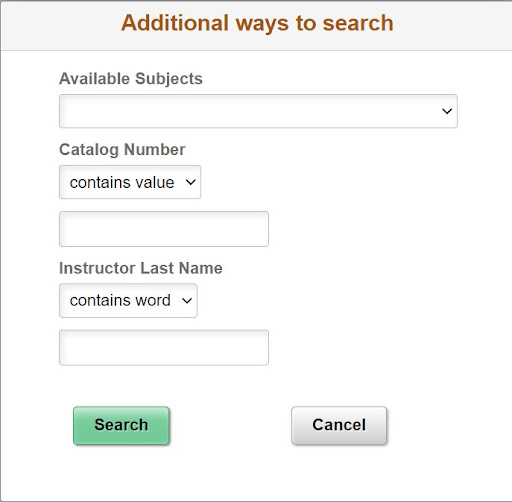 Using Filters to Narrow Down your Search
Once you have your search results, you can narrow down your search by using the filters on the left hand side of your screen.

It is always recommended that you first narrow your search by your associated campus.

The class schedule will provide courses at all SDSU campuses (San Diego Campus, Imperial Valley Campus, and Global Campus); however, you may only enroll at your home campus. It's best to filter out options from other campuses.
Additional Filters
Other ways to filter your search results are by Units, Class Meeting Days and Times, Instruction Mode, and Class Attributes.
Use the Class Attribute filter to search for courses that satisfy a General Education (GE) requirement.



View Class Information and Details
Once you have your search results, you will need to review the class information and details by selecting the course.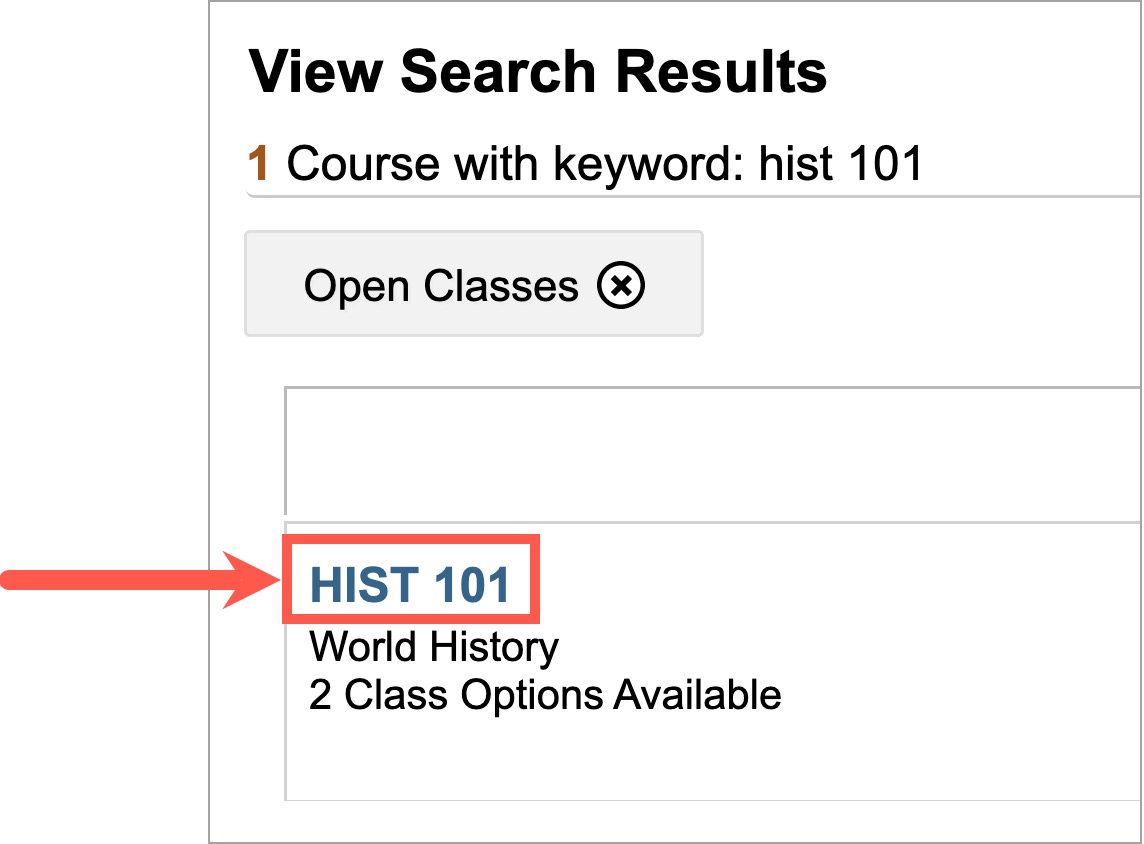 You can review Course Information by selecting the arrow (▶). This section will provide the course description, units, and additional information about the class.

Under Class Selection you will be able to view the section offerings. The Class Selection section will provide more detail about each section such as meeting dates/times, the scheduled room, instructor assigned, and available seats.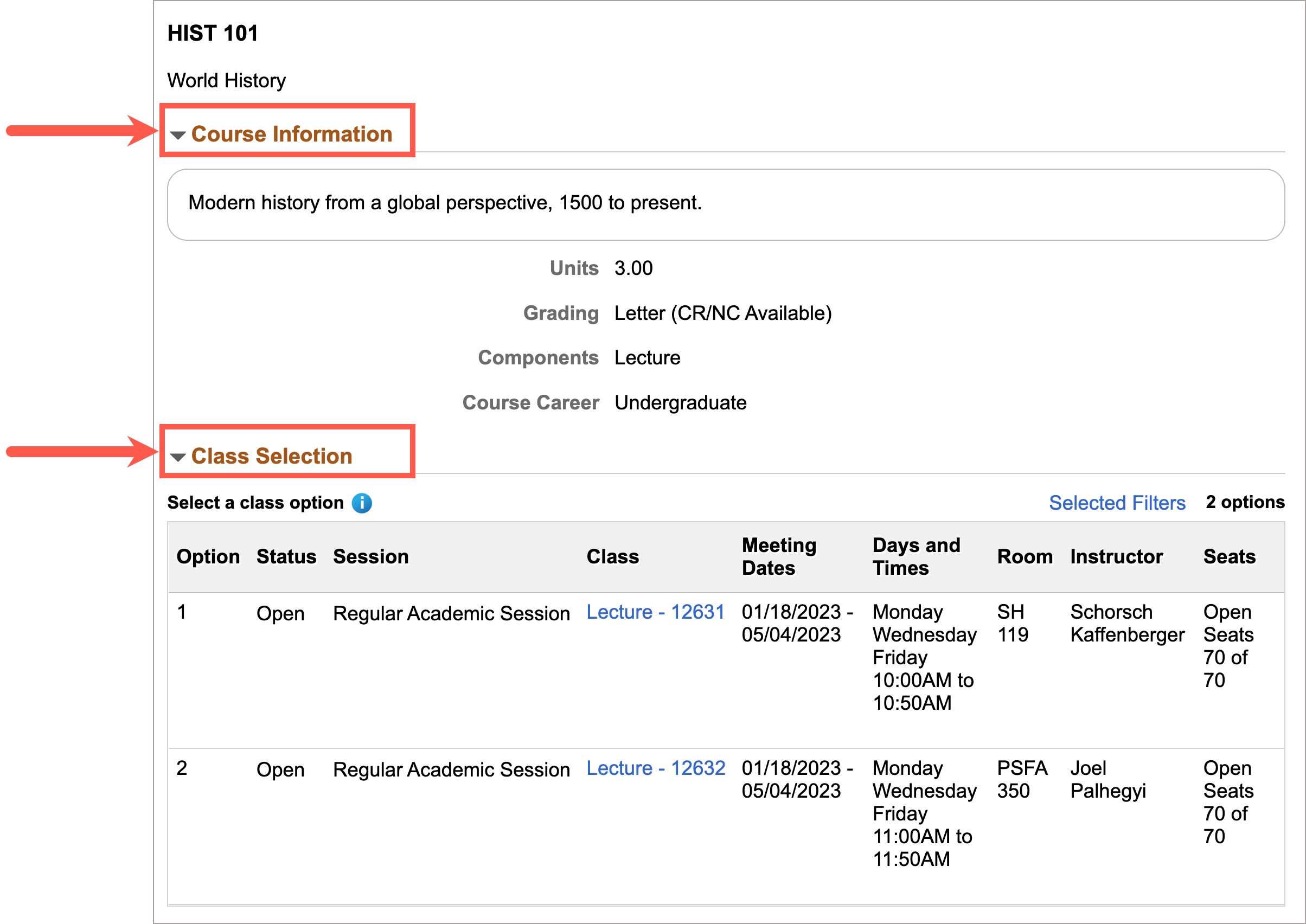 Once you find a section that you are interested in enrolling in, you must select the "Class" link to review important enrollment information about that section such as prerequisite requirements and any additional requirements provided in the notes section to help determine whether you are eligible to enroll.

You may also re-review the meeting information, class details, and seat availability under this section.