How Do I Manually Update Grades?
Introduction
A manual grade update is helpful for class sizes that have less than twenty students. Simply use the drop-down menu and apply a grade for each student.

Learn how to access the Grade Roster. For larger class sizes, consider using the Canvas Import method.
Note: More information about grading is available on the Office of the Registrar website.
Instructions
General Steps to Upload Grades
In my.SDSU Portal:
Add grades to the Grade Roster through a Manual Update.
Save to review work.
Post grades.
Manual Update
Watch Tutorial
View Time | 1:02 Mins
Watch this video to learn how to manually add or update student grades.
REad Tutorial
step 1: Add Grades manually
Under the Roster Grade column, select the drop-down menu and apply the appropriate grade for each student.
To give multiple students the same grade, select the checkboxes next to their ID numbers, select the appropriate grade from the drop down menu next to <- Add this grade to selected students, and select <- Add this grade to selected students.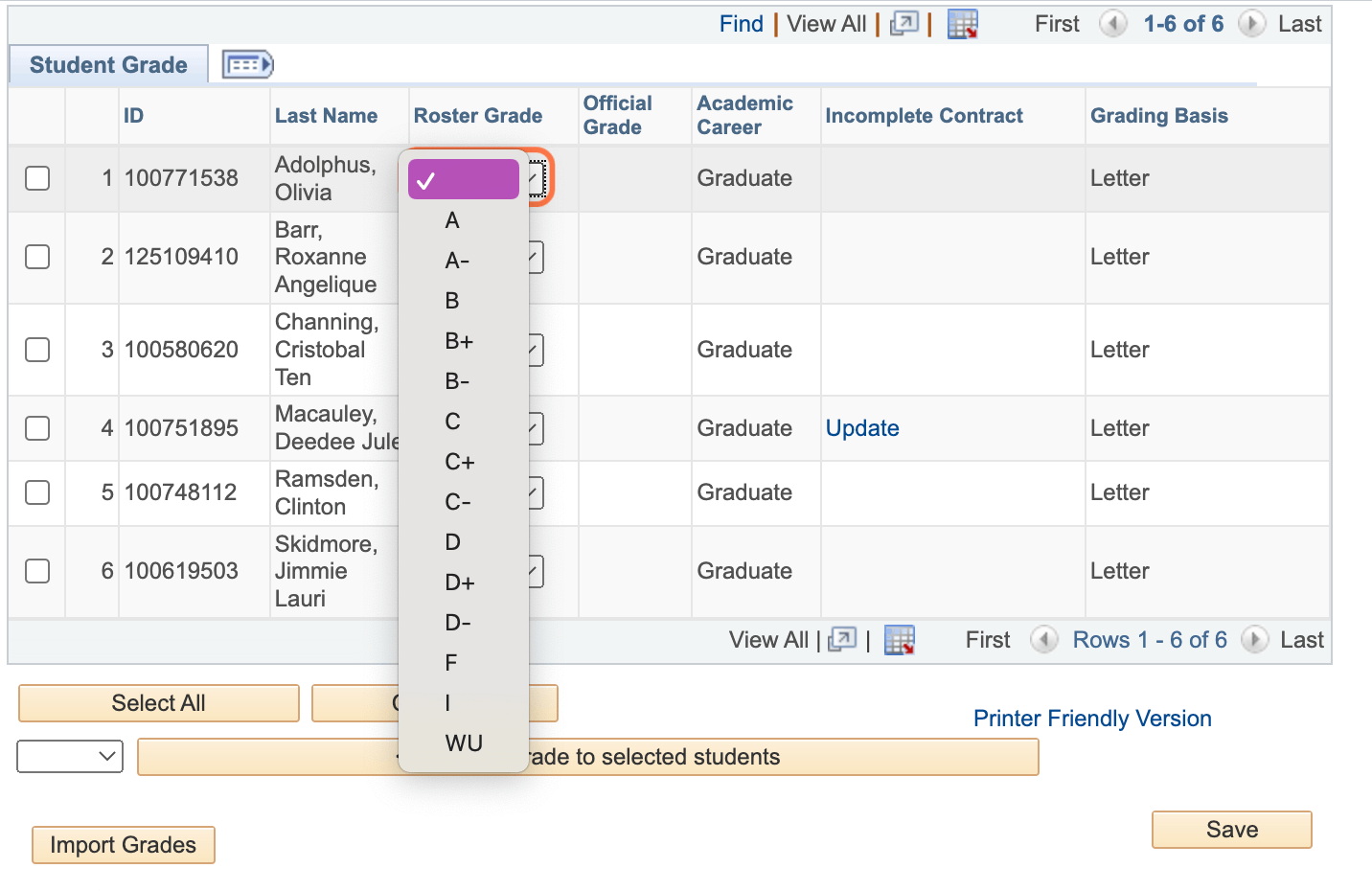 Now you can enter the grades for all students for this particular course. Students can receive the following grades: A, A-, B+, B, B-, C+, C, C-, D+, D, D-, F, I (Incomplete) and WU (Withdrawal Unauthorized).
For more information, review the Office of Registrar's grading description.
Note: Incomplete Agreements are now contained within my.SDSU. The Incomplete Agreements can be created in the Class Roster and visible on the Grade Roster.Faculty members must complete these agreements when assigning an Incomplete grade using the Class Roster icon. In the final step of submission, students are required to sign this agreement.
step 2: Save to Review work
1. Select Save to save your work.

A message will appear to inform you that your grades are saved, but not submitted to the registrar.
2. Select OK.

step 3: Post grades
Watch Tutorial
View Time | 1:29 Mins
Watch this video to learn how to post grades in my.SDSU.
Note: The video blurs student information.
Note: When Post is selected, all of your student grades will be posted at once. It is not possible to submit individual grades one by one.
REad Tutorial
To post your grades, navigate to the Grade Roster Action section located above the class roster.

1. In the drop-down menu, choose Approved and then select Save.

Note: Once you have approved and saved your grades, you will receive the following message. Your grades have been saved in my.SDSU but have not been posted.

2. At the bottom of the page, select Post to submit your grades to the registrar.

Note: If you do not see the post button, please contact your Department or College Coordinator.
When the grades are posted, the Status column to the right of the Grading Basis column will update to Posted.

When you are finished, select Change Class to return to the Faculty Center.

I Have a Large Class!
Consider using the Canvas Import method for classes with twenty or more students. Please visit the resource below for instructions:
I Need to Edit the Grades I Just Posted!
Have you posted grades? You can change the grades after they are posted only during the grading period. For additional information, please read How Do I Change Grades Once They're Posted?