How Do I Log in to my.SDSU?
Introduction
This guide will show you how to log into my.SDSU.
Instructions
Watch Tutorial
View Time | 0:58
Watch this video to learn how to log into my.SDSU.
To log into my.SDSU, visit my.SDSU.edu and select the log in option on the top of the page.
Enter your SDSUid.
Enter your password and complete the DUO authentication process.
Choose whether you want to stay signed in.
Welcome to your new my.SDSU student portal. my.SDSU is a new platform that will streamline the admission and financial aid process through one student portal. My.SDSU is mobile friendly and provides you greater access to your data.
my.SDSU Homepage
This is your first view after logging in.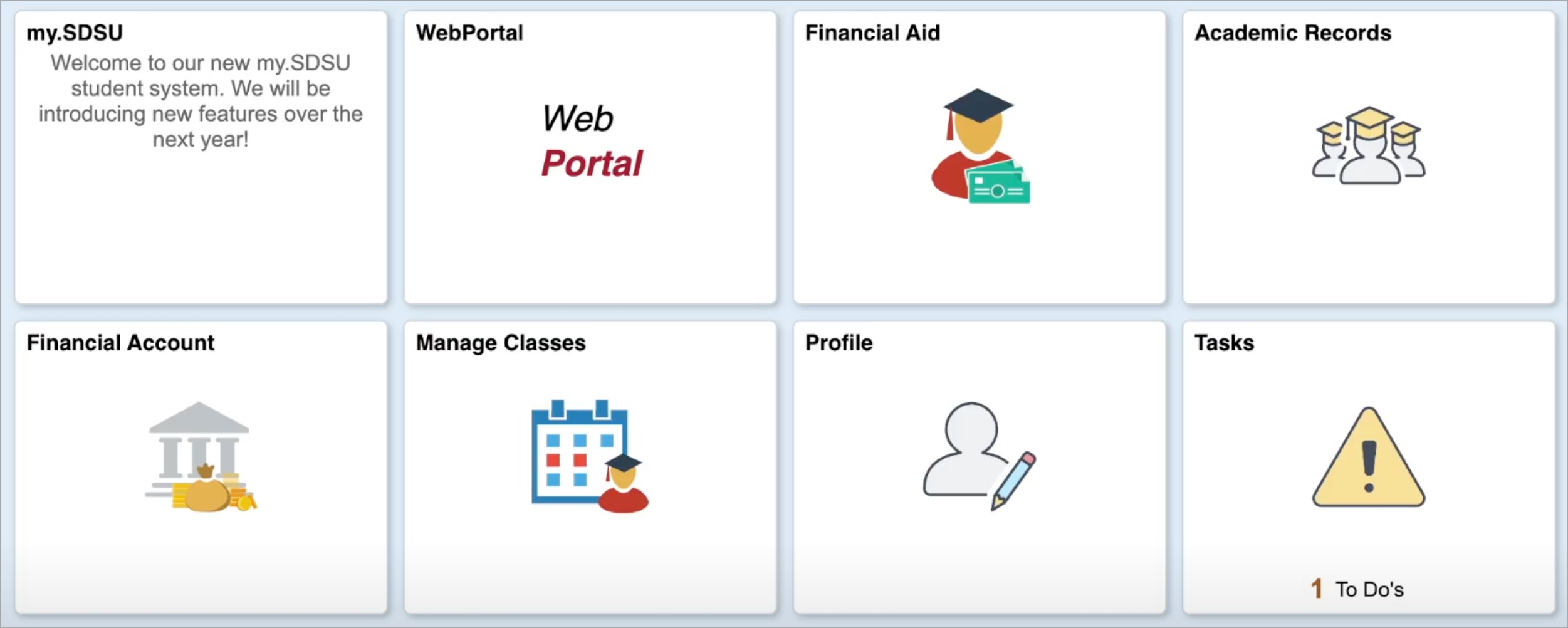 Tiles Navigation
The tiles under your student homepage are the easiest way to navigate around my.SDSU. The following tiles are available now.
Financial Aid - Links to a landing page with additional information regarding financial aid.
Web Portal - Provides a direct link to WebPortal.
Tasks - Shows outstanding checklist items.
Financial Aid
Click on the Financial Aid tile to view your financial aid.
Choose where you want to go:

Fall 2022 and Spring 2023 Financial Aid Records are available in your my.SDSU.
Fall 2021, Spring 2022, and/or Summer 2022 Financial Aid Records are available in AidLink.

Tasks
To view any assigned Tasks, click the Tasks tile. The tile conveniently displays how many To Do items you have to complete.

If you have not been assigned any tasks, the tile will show "No current tasks".
WebPortal
To access WebPortal, click the WebPortal tile.
As SDSU makes the transition to my.SDSU, WebPortal will serve as the place for student applicants to view their admissions status.